Non-Contact delivery now available
Last updated: 15th March 2020.
We understand that some customers may be self isolating or may be uncomfortable with close contact and therefore to help our customers you can now request non-contact deliveries for your card payment orders on our app or website by doing the following:
1. Place your order as normal
2. At checkout, Select Credit/Debit Card as Payment Method
3. Press the Non-Contact Delivery button, and type in any instructions, e.g. leave on doorstep and ring the bell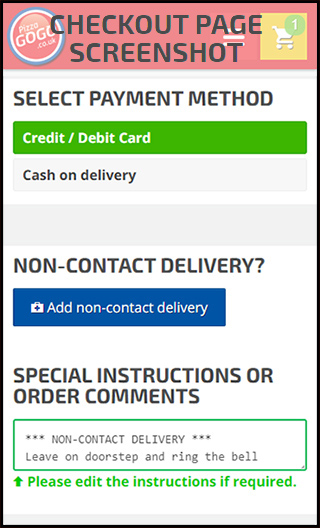 Back
---
CORONAVIRUS (COVID-19) STATEMENT
The health and safety of our customers and staff is Pizza GoGo's top priority.
We would like to reassure everyone that we have always followed the Food Standards Agency guidelines on providing excellent hygiene standards and have now implemented a number of additional precautions such as increased hand washing and sanitisation to help ensure the safety of everyone working for and using Pizza GoGo.
Additional information
For all the latest official information on Coronavirus (COVID-19), please visit Public Health England and NHS websites.
Here is a useful Data Pack that shows important information using great infographics.